As most of you will know, I am a makeup artist, and I work with a lot of brides, and over the years, I've come up with a general idea of some good questions to ask, things to look for and things to avoid when you're looking for your perfect MUA, and here we have: How to choose your wedding makeup artist .
The first and most important point I want to make is, not every makeup artist is for you, and that's okay! A professional will not hold this against you or make you feel bad for not booking them, because they understand, your wedding moring is an intimate time, and they might not be the right fit for you, if they decide to get annoyed, or speak badly of another artist you may be considering, then walk away, knowing that they weren't the one for you, a true professional will not put any other artist down or be shirty with you. 
 Here are some things to keep in mind, think about and ask. 
I asked on Facebook, if any past brides had any advice for future brides, you will find some of their answers as we go.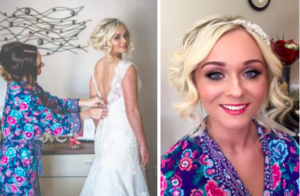 My stunning bride,  Kelly!
"I wanted someone who could give me nice natural bridal makeup that was gonna just enhance my features rather than making me look like a completely different person. Too many people now are just going with what's trending like contouring and big eyebrows etc and it's very easily overdone. Ya have to think things only trend for a while and then they go out of fashion. I also wanted to make sure the artist took into consideration my likes and dislikes. I don't suit dark eyes and was scared of getting something smokey that I wouldn't like as that had happened before after telling the person that that was 100% what I didn't want. Recommendation is always good too as sometimes pictures don't do justice or maybe too much justice lol. For the artist to be bubbly and friendly as they become part of your morning and someone who you spend time with so it's important they have that relaxing calming atmosphere about them."
DO YOUR RESEARCH
Ask friends and family. Have you seen a friend or family members wedding photo's and loved their makeup? Ask them about their MUA, would they recommend them? Were they reliable and easy to deal with? Were they really happy with their makeup? 
Most brides LOVE pinterest, so create a board to pin hair and makeup looks that you like for yourself and your bridesmaids.
A quick Google will bring up a ton of makeup artists in your area, take some time, and go through their websites and social media pages. It is really important to look not only at pictures the artist themselves have posted of a bride, but also, professional pictures. Unfortunately, with the plethora of apps available now, artists often filter and photoshop their pictures, so it is vital you check out the professional photo's also, so you can be 100% sure you're happy with their work.  Reviews are a great indication of the artists personality and rapport with their clients, so be sure to take a read through them.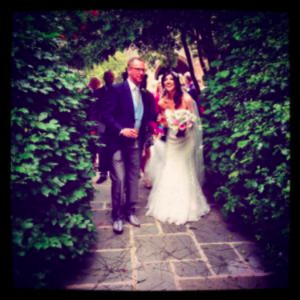 I love this candid shot of Cheryl on her big day!
"The main thing I looked for initially was location-making sure you were local and of course would travel to the venue! The pictures and any previous reviews were my next major consideration so a good website/Facebook page was important to give me an idea of what your work was like -it was fab!! The ability to get a trial nearby was essential-good to get a chance to meet you and chat plus give you the opportunity to see what my skin was like and try to make me look perfect,  what sealed it really-great personality and knew you would be great for keeping us all calm on the morning, as well as the brilliant job you did!"  Cheryl Scott (pictured above)
I recommend you do this as soon as you have set a date, makeup artists book out years in advance.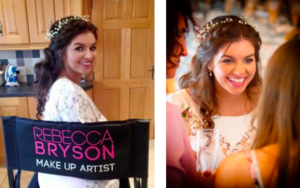 My photo of my bride Sarah on the left, and a professional picture of Sarah on the right. 
"Things that really mattered to me were if the person could travel to my house, cost and how good they were from trials and photos on Facebook, Instagram etc. In addition to that I also wanted people in my house on the morning of the wedding who were really good craic and you and Mary (City Hair) ticked those boxes!"
It is worth noting, lighting and camera function will make a HUGE difference.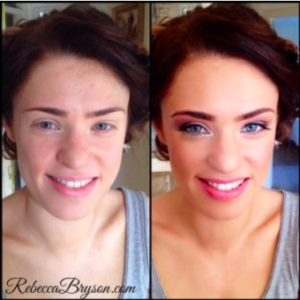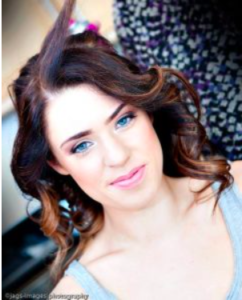 My picture of Maeve on the left, and the professional picture on the right. 
If you have a bridal party that has varied skintones, it is important to check in their pictures that they have experience of working on all skin tones.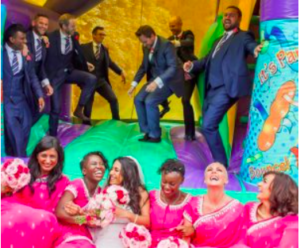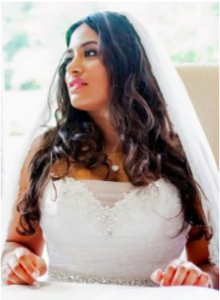 My bride Samantha and her gorgeous bridesmaids, ranging from pale to dark skintones. Photo by Pure Pictures 
Bit's and Bobs to consider
Your wedding photo's are forever, and while big eyebrows or dramatic contouring might be trendy right now, in a year or so, trends will change. On your wedding day, you want to look like the best version of YOU, not someone else. Really think about that, do you want to look back in a few years and think, why on gods earth did I choose that look? Try not to be too swayed by family and friends, take into consideration, your dress, and the style of your wedding, but if you wear a black smokey eye every day, and on your wedding day have super natural makeup, you're not going to look or feel like yourself, likewise, if you usually wear natural makeup, opting for a smokey eye on your big day may not be the best choice.  Small details will often make your look YOU, so if you wear winged liner or a red lip every day, tell your artist at your trial so they can incorporate this into your wedding make up. 
REQUESTING A QUOTE
Some people will tell you not to mention that it is your wedding, but I cannot stress enough how bad of an idea this is, especially if your wedding is on a Saturday, as a lot of MUA's reserve Saturdays for weddings. Some artists will charge you more because it is a wedding, which is why I encourage you to get multiple quotes, so you can decide what you personally feel is a reasonable cost.  But the reality is, weddings are more work than a single event client, the correspondence, paper work, banking, trials, organising and cleaning a full kit for multiple people (an MUA's brushes should ALWAYS be clean and no dirty brushes should be reused on another person without cleaning), travel costs, travel time, and any extra bits your artist may throw in (a card, gift etc), not to mention, you probably want your MUA looking nice in your wedding photo's! If you feel that someone is charging too much, simply don't book them and find another artist, but please be honest and tell your chosen artist if it is your wedding day. 
When you have found a few (I usually recommend 3) mua's that you like, and feel that their style suits you, get in touch with them requesting a quote. To make this as quick and easy as possible for you, here is a rough template of what to message them:
Hi (name)
I am getting married on July 25th 2017, if you're available, could you please give me a quote for makeup (or hair and makeup if your artist does both) for myself, 3 bridesmaids and mother of the bride.  
We will be getting ready at (address or venue), so please include any call out fee's or mileage charges. 
Many thanks
(your name)
From that email, I have all the information I need, the date, how many people and where, I can give you a full and concise quote and it will avoid back and forth questions and any confusion that can cause.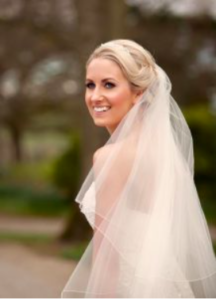 My beautiful bride Claire, was recommended to me by a family member
The MUA should reply giving you a quote, this will generally be a package price, eg. I charge £160 for bride + 2 including the brides trial (so 4 services in total), if you would like an itemised price, simply divide by the number of services. This quote should include a trial, or give you an individual price for a trial. If you would like a trial before booking your MUA it is worth noting this in your first email so they can outline the price for a trial separate from the package price. 
Where a lot of people find an issue, is call out fee's, some people charge one standard fee (say £50 no matter where you are getting ready), and some like myself, will charge a mileage fee (.45p per mile is the HMRC recommended rate, and this covers wear and tear on the car, fuel etc), if you're getting ready far away from the MUA's base, they may charge an hourly travel rate also.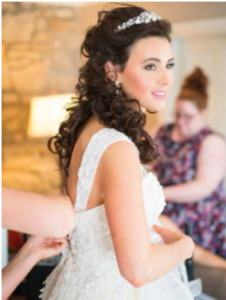 I loved doing Meghans hair and makeup (you can see me in the background there!) at Crom castle, a 2 hour drive from my studio.
You can also attach a picture or two of makeup looks you like, to give them an idea of the look you're after.
When you have looked over the quotes and decided on an artist, they will likely require a deposit and booking form, sending these as quick as you can, dates go quickly especially during the summer months, and an artist won't hold a date without a form and deposit. Be sure to disclose any allergies or medical conditions for your party, including latex as this is what most lash glues are made of, and read over any terms and conditions carefully, so you know exactly what you're signing. If you have chosen to have a trial before booking, get it booked ASAP so your date doesn't go.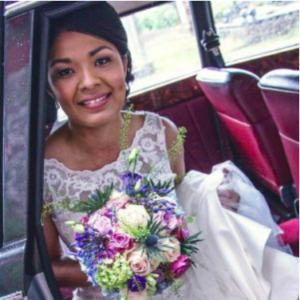 My gorgeous Brazilian bride, Rafaella
AT YOUR MAKEUP TRIAL
I would advise only bring 1 or at most 2 people with you, but check with your artist first if they can accommodate guests. Sometimes, too many opinions can create a bit of a confusing situation, so you should take photo's and show family or friends after your appointment if you would like outside opinions. 
Bring along pictures, it could be that you like the general feel of a picture, a specific colour combination, eyeshadow shape or lip colour, pictures are the best way to show your personal style. Your artist will be able to advise whether these things will suit your particular eye shape (for example, hooded eyes and winged liner do not mix well), and skin tone. Ask your artist if they have any recommendations for your skin coming up to the big day, do they feel you need more hydration, exfoliation etc. Your trial is the time that will you will finalise all details with your artist, what time they will be arriving with you, how long each makeup/hair will take, what do they require on the day (a medium table usually does the trick!) 
This is the really important bit, if you're unhappy at your trial with the makeup, your artists attitude, behaviour, kit etc, say something, ask them to change what you don't like, OR, if you can cancel them (depending on the cancellation policy in their booking form) OR, if you haven't booked them yet, walk away.You're not obliged to stick with someone just because you have had a trial with them, and sometimes personalities don't gel or expectations aren't met. As I mentioned at the start, not every artist is the one for you. 
I love this picture of my bride Aisling, taken by Simple Tapestry
I hope this helps you on your search to find your wedding makeup artist! And if you live in Northern Ireland, don't hesitate to pop me a message for a quote!
Speak soon
Rebecca